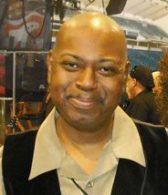 Hey everybody it's Bill "The Buddha" Dickens; I just wanted to say thank you for all of your compliments. It is wonderful to be known all over the world for my technique and everything that I do. The thing that I want to say to all of you is just don't concentrate on my speed but also concentrate on the nature of music because by the end of the day, just speed alone is not going to get you the recording session or tour that you desire. But being musical is what I am all about. Additionally, bass is not my only instrument that I play. I also play drums, piano, acoustic guitars, and I am an arranger and vocal coach. So for me I read music on each of those instruments. So I am able to translate things onto the bass from these other instruments that most people do not think of.
Therefore,sometimes I have two jobs to do as a bass player. One is just holding down the groove and supporting the music I play. And sometimes I do not play anything because I love to leave space for other people to fill up gaps in the music. So I have learned to master space as well as know how to fill up space when the time is appropriate. The other thing I do is I also play chords and chord inversions behind a singer or a soloist or sometimes when I am playing alone. And those skills come from my experience from knowing jazz improvisation as well as my experience in classical music. So what I play is not something that is made up or by chance but it is well thought out and also well studied. And sometimes people do not understand it. My dilemma with this generation is that we do not have the institutions for you younger folk to go and study music improvisation and understanding how to play around core progressions as a supportive bass player as well as a soloist. So understand that I am informing you on this because I am not only a bass player, I am a record producer as well. And some of the things that I know about bass playing came from some of the greatest musicians in the world.
So when I learn from those musicians I take it and apply it to what I do as a bass player. And what makes me different is that I can apply my style to all genres of music and it has been documented on numerous records and projects that I have been on over the last thirty years. The thing that I have a problem with is that people always look at my speed rather than what I do as a music bass player. So you have to understand that being who I am is sometimes a hard thing because sometimes being misunderstood can hinder you in some areas. But at the same time you grow as an individual and a musician. People are always asking me "How did you come up with your own technique?" I tell them that I am a combination of many different instruments and also I can sight read music in different clefts. So I am able to dissect things that alot of people are able to do unless you are able to sight read and have a proficient ear. So if you listen to me for just technique, then you have got it all wrong.
I am about the music and making the music feel good. But also understanding my role as a bass player as well as being a solo artist is just as important. So when you hear me listen to what I do as a bass player and a guitarist and also that I am playing piano, saxophone, trumpet, cello, guitar, and drums on the bass. So my understanding of the bass is different from a lot of people because my mother started me out reading music at three years of age on the drums, bass, and later, the piano. So because I play the way I do it comes from having a wonderful mother that understood the importance of not only being a musician the plays by ear but also by notation. So what I am telling you is that when you observe my technique, it is not just only playing bass but it is also playing all of the instruments that were aforementioned on the bass. So on my right hand I play with all five fingers individually and all five of my nails in a synergistic symphony.
So by analogy, it is similar to having five finger picks. So I can play as fast as a drummer can play or double up the notes or slow it down to a slow funk groove or a ballad or a hip groove or a rock groove. So why I am telling you this is because I want the world to know that what I play is not just for flash but it is also for whatever music I play. The other thing is on my left hand I have the notes divided on the four fingers of my left hand divided between what I play on my right hand. So what I do is not a ghost note hammer on but is the actual note being tapped, then plucked, then struck by my finger nails on all five fingers with my right hand working in conjunction with my left hand of my four fingers. So that is how I am able to play any phrase over any chord progression and chord substitute over any chord progression. So if you understand music theory (and believe me, do not take this the wrong way) but there are a lot of kids that will not understand what I am saying here because you do not have the same music institutions that I had when I was growing up and not just in college but in grade school as well. So please understand that I am saying this to you that if you really want to know about Bill Dickens is, you have to understand that it is not just playing a lot of licks but it is well thought out and well practiced.
So hopefully in my lifetime I will be able to leave behind a lot of wonderful music and solos that your generation and many generations to come long after I am gone will be able to take what I have done in my lifetime to a whole other level. So for all of the bass players that are younger than me, including the great Victor Wooten, and many other bass players that know of me, we all learn from each other. But we take what we do and we make it our own. So please never compare me to anyone but myself because what I do comes from a whole other school and different era. But what I have learned over my life time is that I could not have done it without the help of those who supported me and hated me. So if you desire to be a great musician, go to school, get your education so that when you are learning to play you also are learning how to survive in the music business because what I do as a business man and as a musician is so far beyond the norm of just playing that sometimes I forget that I play any instrument because of this.
So thank you for all of your support over the years and I hope that you understand that I am saying is from my heart and my soul and if it were not from all of the fans and my dearest friend Victor Wooten who has always been an inspiration to me over the last 11 years I probably wouldn't be playing the bass ever again. Also Jeff Berlin is probably one of the few people that understands what I am trying to go for. Sp thank you all, please continue to support me as I continue to bring you new music and new ideas in my technique and that you will see a lot more great things from Bill Dickens who is a person that has been given a special gift from God Almighty above to share with you in my lifetime.
I love you all and God Bless you.
🙂