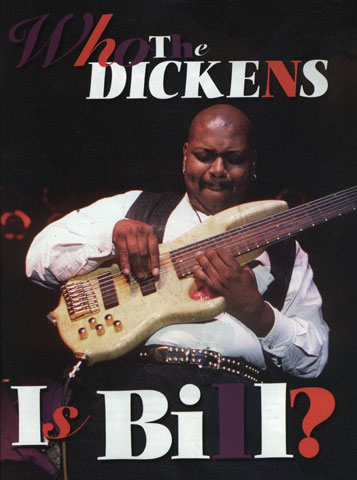 An indepth interview by
Victor Wooten.
Story courtesy of
Bass Player Magazine from May 1996 back issue.
---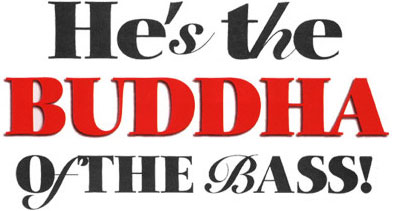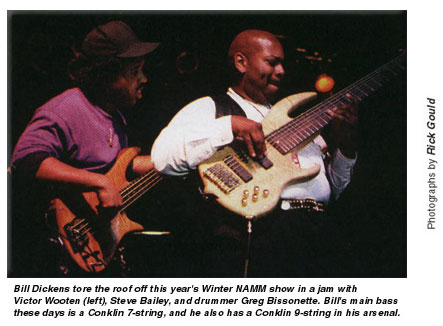 It all started about ten years ago. I was living at my parents' house in Virginia when a good friend of mine, Keith Horne, came by with a videotape of pianist Ramsey Lewis's band on the Arsenio Hall Show. "I like Ramsey," I said. "Who's on bass?" "Bill Dickens," Keith answered. "Bill Dickens!" "Who?" The tape started with the band playing an intro for Ramsey, which included a bass solo of only about four measures. But within those four bars, it seemed as if a lifetime of bass playing had gone by.
I had never-and still haven't-seen a player reach that level of intensity in such a short amount of time. It was as if martial arts master Bruce Lee were on bass: 0 to 60 in 4.8 seconds. My brother Regi and I were on the floor, laughing in amazement. The TV speaker was distorting-not because of the volume level, but because the speaker could not reproduce the notes as fast as Bill was playing them.
After about the tenth viewing, I checked my pulse and picked up my jaw so I could ask, once again, what this man's name was. Then I set out on a quest to find him.
A few years later, I found myself in Chicago; I had just finished a gig and was about to hop into a taxi to the airport when I ran into Keith Horne again. He told me he was headed up the street to the NAMM show, where he was going to be performing with Beaver Felton and Bill Dickens. My adrenaline started to flow. After quickly changing my plane ticket and scamming my way into the show, I was finally getting my chance to see the master in person.
Bill was simply amazing. He took his 6-string on a journey through countless styles of music, and he soloed through complex jazz tunes as easily as if he were playing nursery rhymes. He could mix funk with jazz and rock and then add a touch of blues in an amazingly creative way, like a chef adding new spices to an all-too-familiar dish. The speed of his fingers was shocking, and at times he used all ten digits to produce his wonderful sounds. At times he plucked with all five fingers of his right hand and moved them up and down the neck in both directions. To call this man a master jazz musician would be much too limiting.
In June of last year, I picked up Bill from the airport just before the beginning of the Summer NAMM show in Nashville. It didn't take long upon entering the convention hall for the crowds to start forming around him. Whichever booth he went to, people gathered to hear him play. The now-firmiliar question ringing through the air: "Who is this guy?"
As the weekend went by and the NAMM-show attendees became increasingly aware of Bill, I found myself still unsatisfied. The world needs to know about this man, I thought – so I grabbed my tape recorder, brought along a few of my musical friends, and sat down with Bill. I soon realized this was not the same man I had encountered a decade earlier: he had changed. He had grown. He seemed enlightened. As we looked at him, with his newly shaven head and confident attitude, we all agreed: Bill Dickens is the Buddha of the bass!
You probably have more technical command of the bass than anyone I've ever seen; yet many other players, myself included, get more publicity. Why do you think that is?
It's probably because I stayed with Ramsey Lewis for about eight years; he's great and all, but he comes from a different era, so the people who came out to see us were older. I wasn't, really recognized by any of the acts we would open for, or who would open for us, until I was just about to leave the group. So I had to make a decision, because I had come to a fork in the road: either I would continue playing locally [ in Chicago], or I'd pursue my production career, which started in 1990. This is my first interview as a bass player.
Well, I'm honored. Were you still playing bass as much when you began producing?
After I had produced Ramsey's last album for Columbia [Urban Renewal],
I felt I had reached my peak as a bass player. I didn't see any other avenues to go down unless I packed up-you know, left Chicago and moved to L.A. or New York. I wasn't quite ready for that yet.
So you pursued production?
Yes, producing and songwriting. I've had major success doing those things, so l'm not complaining, but I did come to a point where I had to put down the bass for almost two years to work on my skills as a producer. That became an around-the-clock job, and I got very little sleep.
Did you miss playing?
I didn't have time to think about the bass, because I had to take on the new role of arranging sessions, hiring musicians, and that sort of thing. It was the new generation of players who kept telling me to pull the bass out of the closet: "Come on-you're the guy who inspired us, and now you don't play anymore?" So I pulled out the bass, and about a week later Ramsey called me to sub on a gig. I told him I hadn't played in two years, and what he said was really inspiring: "Man, to me, you're the world's greatest bass player, and what you have inside will always be there in your soul and in your heart."
Was Ramsey's band your first major gig?
No, that was with a piano player named Gene Harris. I hooked up with him after I graduated from high school and relocated to Denver. At that time, I played only funk music and rock & roll. I had no idea how to play a solo-when I played one, it would just be a bunch of noise [laughs]. But when I hooked up with Gene, I noticed he was playing all this crazy stuff that I couldn't understand. I asked him what he was doing, and he said he was just improvising. I mean, I really had no idea. Gene gave me a couple of ideas – blues scales and that sort of thing. One night Monk Montgomery came to see me play, and Gene introduced us. Monk was probably the first person to teach me how to approach jazz and play over chord changes, although he was very sick at that time. His left hand was paralyzed, so he'd just tell me stuff verbally and play me old records.
Did you have other mentors?
Later on, when I moved back to Chicago, I went to Northeastern Community College, where I joined a jazz band. That's how I met [saxaphoilist] Art Porter, [saxaphoilist] James Perkins, and [drummer] Greg Rockingham. They're some bad musicians, and they taught me-I mean, all the time. I'd be trying to read a chart and Art would come over, and he'd just read it as if it were nothing. It would really piss me off. Later, when I got with Ramsey, I hooked up with [trumpeter] Freddie Hubbard, who was a great help to me in terms of expanding my improvisation. There was also [guitarist] Henry Johnson; after gigs we used to have arguments about phrasing and that sort of thing. From that point on, it started getting more serious. Since I was originally a drummer, it all just kind of locked in.
When did you start to play drums?
At the age of three. I started playing bass about a year after that, and I took up the piano when I was seven.
What made you choose bass as your main instrument?
Well, I really had no choice because nobody would hire me as a drummer; they thought I overplayed. I'd be playing with a band and all of a sudden they'd hear me doing a press roll on the bass drum . . . it was just crazy. Back then, there was no such thing as fusion;  everybody wanted a pocket like Sam & Dave, James Brown, that sort of thing. So I got frustrated and tired of hearing that I overplayed. I started taking bass lessons, but the hardest thing for me was to find an instrument. Being a kid, I thought the thing looked like a monster – so I actually started playing on my mother's guitar. She had a Danelectro that had an amp and speaker built into the case. I started messing around with it and listening to some records my mom had around the house, and I began to catch on. On top of that, from about six months after I was born until I was three, I had been going to the Regal Theatre every week; my mom was going there even when she was pregnant with me. Seeing James Brown at his peak in 1966, as well as the Bar-Kays and the Miracles and all these other groups left a big impression.
Most of the bass players in my school weren't serious, but I would stay home and just practice and practice and practice. By the time I was 13, I was second call for gospel groups – ones that are very well known today, although I had no idea whom I was playing with at the time. On my first recording, I was very nervous; I was thinking, What happens if I mess up? Nobody told me I could punch in, so I actually nailed the song on the first take. Everybody was happy, and I was, like, "Did I play okay?"
So you were really starting to develop as a bass player?
Yeah. People know me mostly as a bassist, but really I'm a songwriter who uses the bass as a tool to write songs. When I was in high school, a record label put me on a salary of $200 per week to write songs. I didn't know I was a ghostwriter. I would hear my songs on other people's records, so I got out of that deal.
Where did all of your bass technique come from?
Well, when I moved back to Chicago, I ran into a bass player named Steve Jennings; he pulled out his Fender and started doing what we know today as tapping. He was doing triplets by using his right?hand thumb and index finger and a hammer-on, and it freaked me out. After that, I just 'shedded, and by the time I was 19 or 20 I was playing stuff ten times faster. I didn't even understand what I was doing; it was just a blur. That's when I started using a cloth.
A cloth?
Yeah-I'd roll up a cloth and put it between the strings and fretboard to raise the action. I would play triplets, work on the thumb technique, play different rhythms-that sort of thing. The strings seemed to be inches from the fingerboard, and playing with all of that tension built up my I strength.Being a drummer, I would wonder, Why can't I go like this on a bass? [Beats out a rhythm on his leg.] So I started working from my drum books, and the stuff just blew up-it went through the roof.
I've seen you run from the highest note on a 6th string to the lowest you do that? Do you have a favorite pattern or mode?
When I was younger I would think about scales and modes, but now I can do whatever I think of. If it comes to mind, it comes out on the bass. If I'm playing a funk tune, I think of it as a minor kind of thing; if it's something pretty, I think about the chord progression and try to outline the chords. But it's kind of hard to say, because when I get hyper and start to play fast, I lose focus. It's almost as if I leave my body, and when I listen back to myself on tape, I sometimes don't think it's me.
Can you explain one of your thumb licks?
Well, let's just take a standard triplet. If I'm playing in the key of E, I might hit E on the A string with my right thumb. Then I'd pluck a D on the G string with my right index finger, hammer the E on the G string with my right pinky, and then start the process over. I probably should write a book on my technique, because I seem to have found my niche-something I can grow on for the rest of my life. [Check out the instructional videos.]
I heard that when John Patitucci first left Chick Corea's band, you got a phone call. Care to talk about that?
A friend told me I should send Chick my video. I sent a copy to this guy who claimed to be a friend of Chick's manager; he sent it to the manager or at least that's what he claims-and I got word back from my friend that they said, "We don't need another Patitucci. We need someone to play simpler." Jimmy Earl is perfect for that, and I think he's doing a great job with Chick. [Ed. Note: Jimmy Earl was featured in November '95.]
Is it frustrating to see other players with gigs you know you could play?
It doesn't hurt me, but I used to get frustrated when guys like Darryl Jones-who used to come see me play as a kid-would get them. I mean, he isn't a soloist, per se, but he went from Miles to Sting to Madonna to the Rolling Stones-and he came from Chicago, too! But Darryl is an excellent player, and he and I are the best of friends. [Ed. Note: Darryl Jones was featured in Jan/Feb '95.]
What equipment are you using now?
My main bass is a Conklin 7-string, but they've also made me a 9-string.
Areyou crazy? How is that tuned?
F#, B, E, A, D, G, C, F, Bflat
You are crazy! What else?
I still have my Ken Smith. [Ed Note: This bass is an original Ken Smith/AnthonyJackson 6 string; see The Great Basses in March '96.] I'm using two Ampeg SVP-Pro preamps, two Ampeg AP6500 power amps, and Ampeg speakers: two I x 15 cabinets, one 4×8 cabinet with a tweeter, and one 2×12 cabinet with a tweeter. I also use a Lexicon JamMan and an A.R.T. NightBass for effects.
You've recorded songs for Janet Jackson, Deborah Cox, C&C Music Factory, Sounds Of Blackness, and many other artists. What's next?
I recently played a gig in Poland with [keyboardist] Joe Zawinul, and it was unbelievable. It just floored me. I went over and started touching his keyboards, thinking, I want this in my soul. When we started playing, I lost it – I was so into Joe I missed the change! [Laughs.] I'll be going out on tour with my own band for sure, as well as doing some more producing, and the bass will be in front rather than in the closet. Now that music has changed and sequencing is going out the door, man, I'm getting so many calls just to play. It's great to go into the studio once again and see a rhythm section, with cats tuning up.
Anything else you want to tell us?
I won't say I made a mistake in quitting-but if you play the bass and that's what you do best, believe in yourself and never stop. Just stay focused. Whatever you want to go for in life, you can do it. You can do it!
To read this interview is not enough. To describe every facet of Bill Dickens's ability would take far too long; it appears as if the man has no limits. I don't know where he'll surface next, or where the next sighting will occur-but if you happen to be one of the lucky ones to witness the occasion, I'm sure you'll agree with me in saying he is definitely in a class of his own. Even though Bill's been playing, touring, teaching, and recording for a very long time, I believe he still hasn't gotten the recognition he deserves. Perhaps now is the time. Perhaps the world is finally ready for Bill Dickens.
courtesy of BassPlayer Magazine; May '96 Issue